FINANCIAL EDUCATION CENTER
Gesa Credit Union offers financial education with access to a broad range of value and cost-effective financial product and services. Organizing your finances can be challenging, especially if you are just starting out. Gesa gives you the tools and materials right at your fingertips, so you can be successful. Let us be your guide to your financial journey.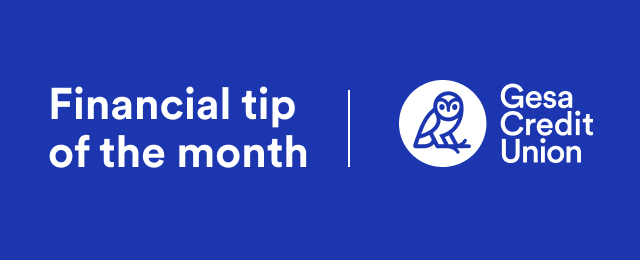 HEALTHY SPENDING STARTS WITH BUDGETING
// SEPTEMBER 2023
Budgeting is an important tool that can help us practice discipline and maintain healthy spending habits. Allocating your money properly can help you get what you need while still allowing you to buy what you want. The general rule of budgeting is to spend 50% of your income on necessities, 30% on wants, and the remaining 20% on savings. But you can definitely alter this to fit your lifestyle! After setting aside money toward savings and paying for what you need, it's perfectly okay to use the rest for fun.
YOUR FINANCIAL JOURNEY STARTS HERE!
Let's talk about banking basics. It is not a good idea to hide your money under a mattress, as it can be very risky. At some point you will need to secure your money either with a Bank or Credit Union. Both Banks and Credit Unions offer insurance coverage over your money, creating a safe and profitable way to take your first step in your financial journey. But make sure you do your research to find the financial institution that offers the right products and services for you.
Products and services are essential to managing your money. Banking institutions offer a variety of consumer needs. Checking accounts allow you to deposit and withdraw money for daily transactions. These accounts are also good for paying bills, purchasing items with your debit card., and depositing your payroll. Savings accounts allow you to withdraw and deposit money. However, they are not for everyday transactions. Savings accounts are good for earning a higher interest on your money, making larger deposits, and saving for something special. When looking into a financial institution, you will want to research monthly fees, minimum balance requirements, interest rates, and opening deposit requirements. You'll also want to look into electronic services they offer in the event you need to access your accounts outside of a physical branch.
Gesa Credit Union is a not-for-profit financial co-operative. This means we share our profits with our members through higher interest rates on savings and lower rates on loans—ultimately earning our members more money in savings and saving them money on loans.
Gesa Credit Union also offers a unique variety of products and services. For example, currently, Gesa offers a Student Checking account for ages 14-18. This product empowers young members to have their own Savings and Checking accounts with a debit or ATM card. It is not common for financial institutions to allow a minor to have their own individual account. However, ours are designed to set students up for financial success as the student checking product is not eligible for overdraft protection. This feature is added to protect the member from consistently over drafting their account and accruing service charges. Additional features such as online banking empower the member to track their balances, pay bills and set transaction alerts.
Do you know a young person ready to learn the ins and outs to managing their money? Student Checking at Gesa is a great way to start out!
banking basics meet carlos